Story by Lauren Cahn, Edited by News Gate Team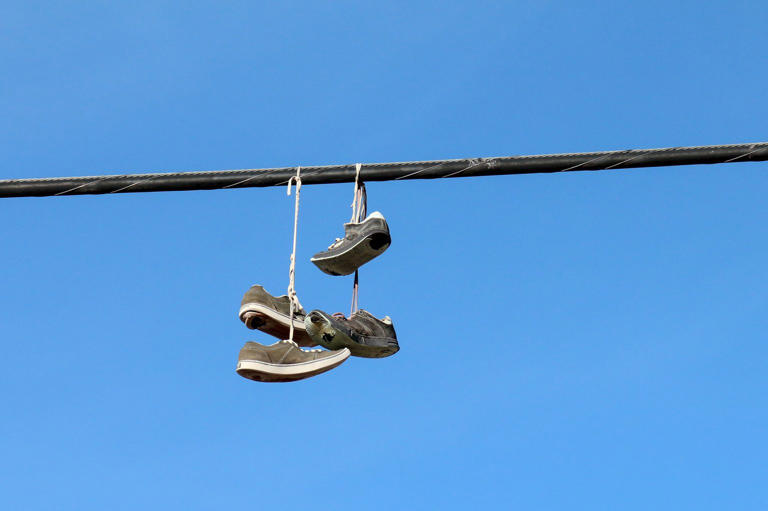 Shoes on power lines aren't something you see every day. But like colorful beads on trees, it seems that wherever you see one, you're likely to see many. While there's some consensus about what those beads mean (it's a Mardi Gras tradition), there's quite a bit of disagreement when it comes to what shoes on a power line actually mean. In fact, veteran police officer Rob Demarco, who saw his share of danglers during his 20 years on the force in Eastchester, New York, has a theory that most were flung there simply because there were already other shoes on the power line.
In other words, unlike colored balls on power lines, metal wrapped around a tree, balls on cruise ships and the occasional painted purple fence post—all of which serve very specific purposes—the shoes you see hanging from power lines may be a product of our "monkey see, monkey do" mentality. That said, what Demarco's theory doesn't necessarily account for is that first pair: How did it get there? And why?
Theories abound as to why people might be adorning their power lines with shoes. If you like interesting facts and random trivia, then you're going to want to read on.
Get Reader's Digest's Read Up newsletter for more everyday mysteries, humor, cleaning, travel, tech and fun facts all week long.
Why do people throw shoes on power lines?
It's one of those things you probably never thought about, but people have been chucking their shoes as a form of personal expression since before power lines, let alone electrical power, even existed. For example, there was an old English wedding custom of throwing shoes at a newly married couple. Some say it was meant to bring the newlyweds happiness and good fortune. There's also a long-standing military tradition of flinging one's boots to symbolize the end of one's post. Space pioneers Neil Armstrong and Buzz Aldrin even apparently flung their moon boots from the hatch of their rocket before returning to Earth.
Story by Lauren Cahn, Edited by News Gate Team